Regular price
$28.99 USD
Sale price
$27.99 USD
Unit price
per
Sale
Sold out
About Muse Garden
Muse Garden, as a design brand of hand-blown glass art, aims to bring you original designs by working with designers and artisans. They are highly talented and have over 30 years of experience.
We hope to use the hand-blown glass to decorate your courtyard and home.
Handmade for the unparalleled
Glass blowing is an ancient and magical art that originated in the 1st century B.C. Muse Garden's glass works are hand-crafted by artisans, with each product having unique color-ratio, pattern and shape.
During the manual blowing of the glass, the air cannot float, thus forming small bubbles. These bubbles represent the life of the glass.
The slight convex vertical line mark left on the glass during the blowing process, as well as the bubbles are proofs of hand-made craftsmanship.
Not only attracting, but also offering meticulous care to hummingbirds
- The base is equipped with perches for hummingbirds to rest instead of feeding when flying.
Other features
- The simple structure is easy to disassemble, the large bottle mouth easy to clean and easy to fill. The base is tightly sealed with a leak-proof gasket to prevent nectar from leaking.
- The durable glass is resistant to damage and fading. Compared with plastic bird feeders, it performs better in all weathers.
Nectar formula
Mix water and sugar in the ratio of 4:1, boil and wait for it to cool down completely before pouring it into the feeder.
What's in the Box
- 1 hummingbird feeder (removable glass bottle and base)
- 1 ant moat, 1 S hook, 1 hemp rope (to hang the bird feeder)
- 1 brush (to clean the feeding hole)
Share
View full details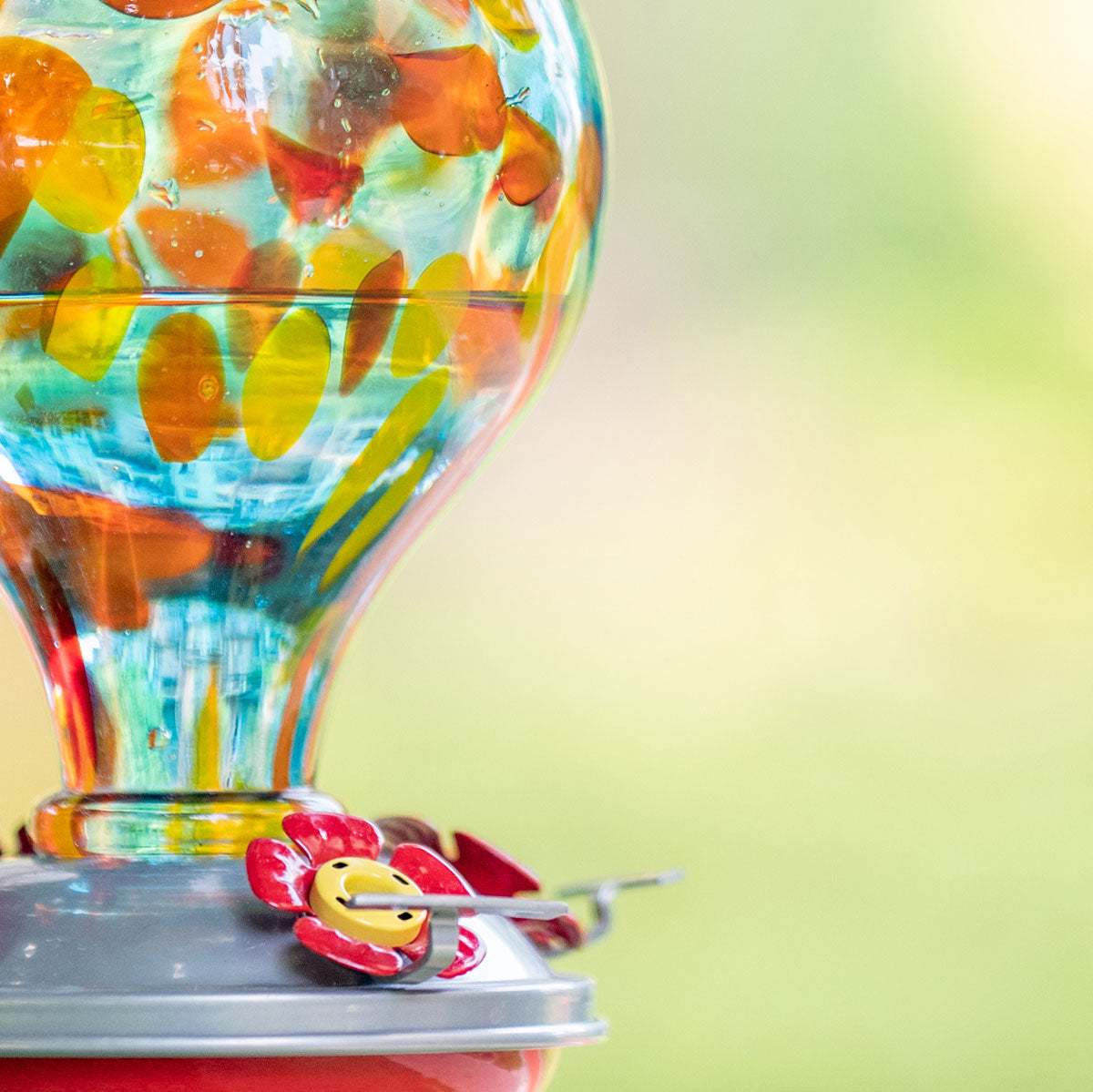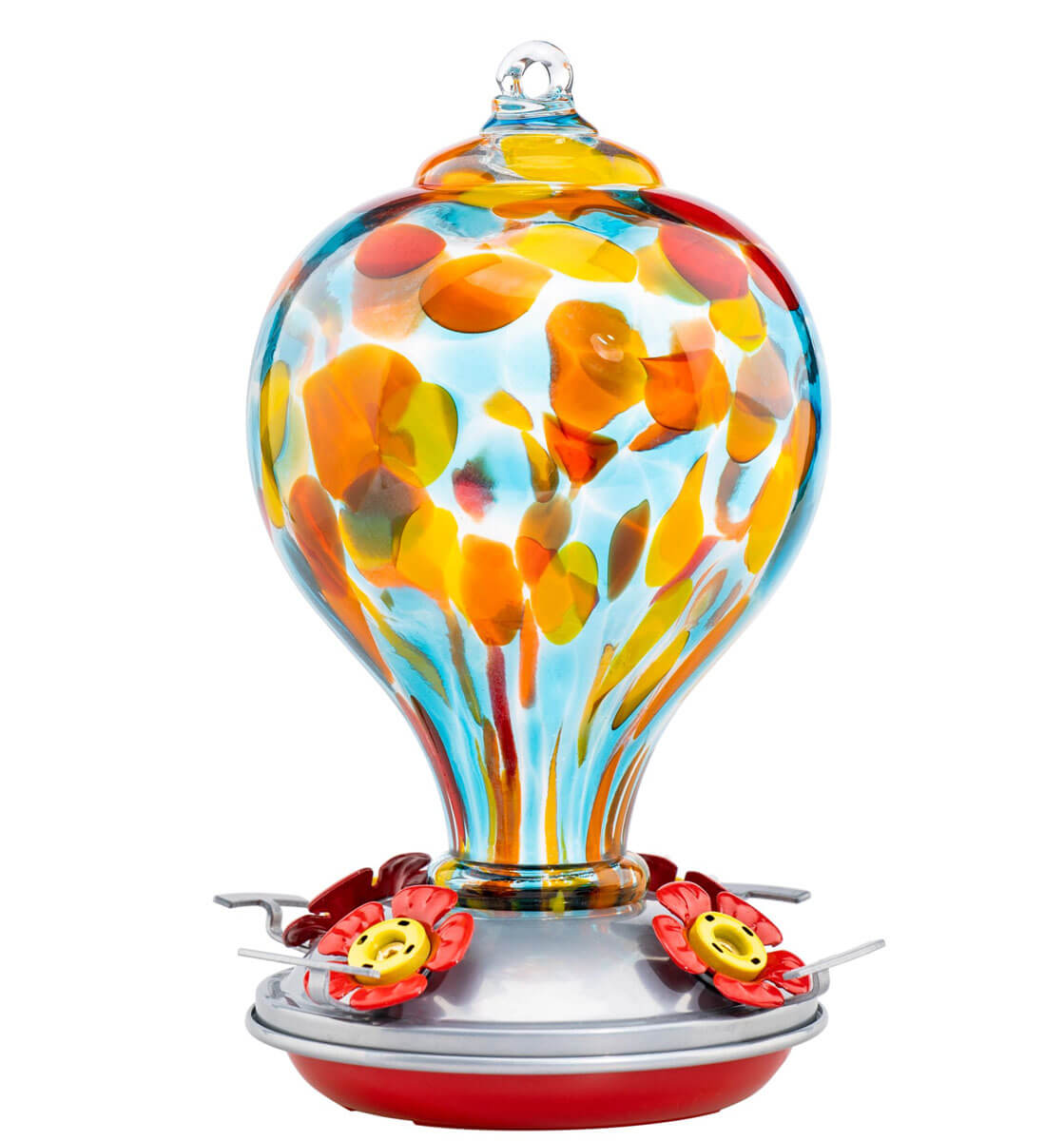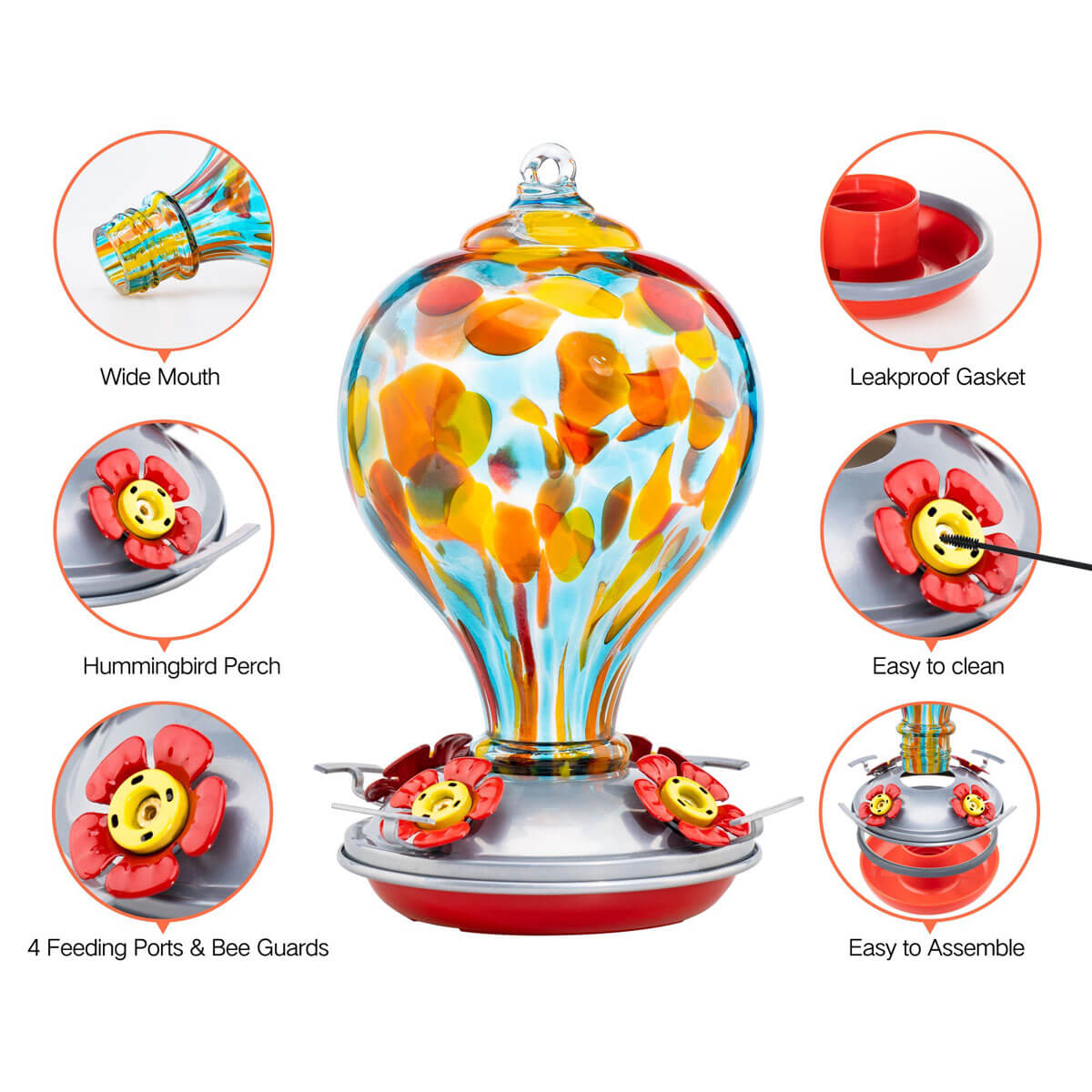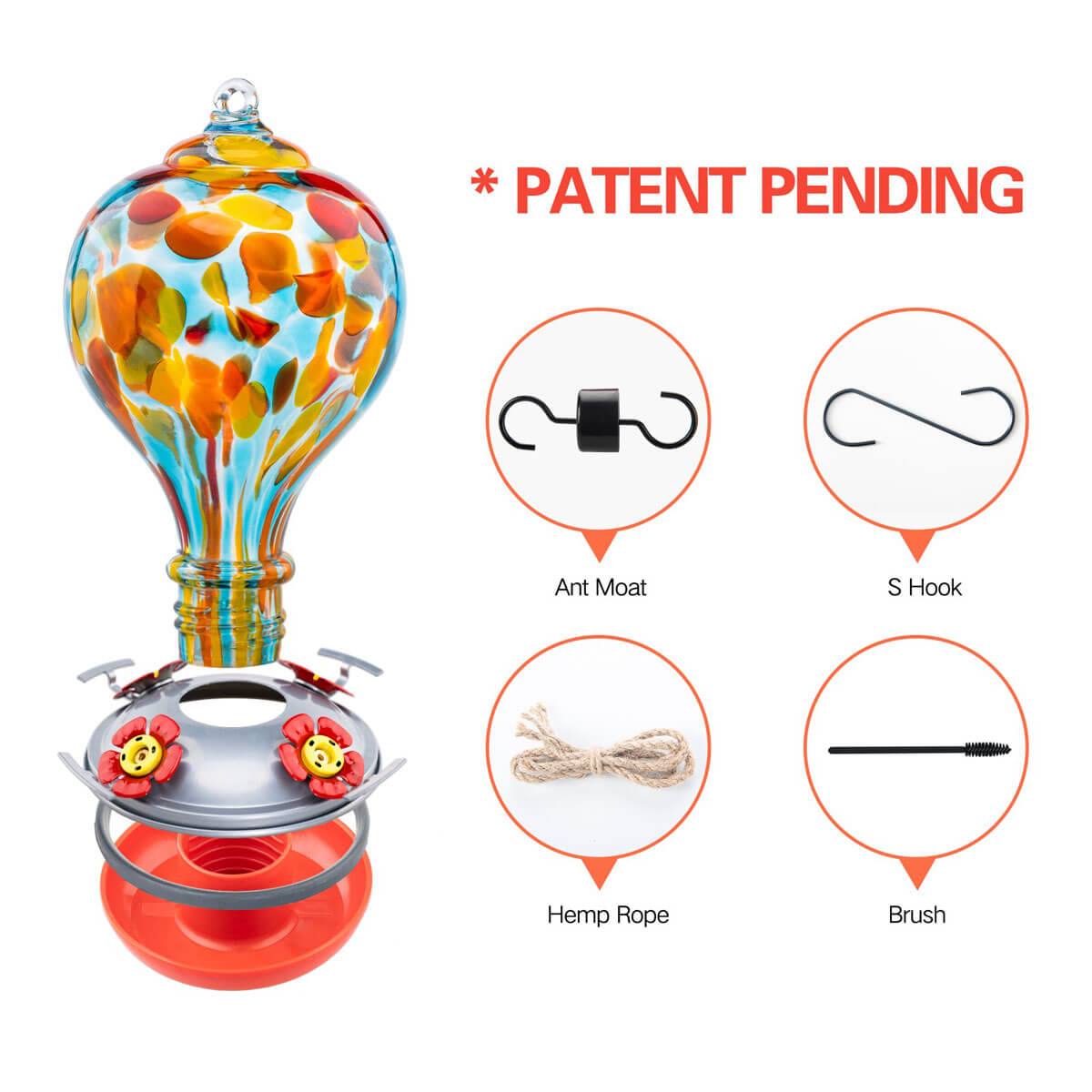 For the birbs !
These are some of the best hummingbird feeders I have bought! Good quality and good construction, is going to make this season extra special.
beautiful
We love this little future addition to the garden!!
I love these pretty hummingbird feeders!
This is my second feeder from Muse Garden. I was very happy with the first one; price and here quickly, so I bought a second one. I am twice as happy and so are the hummingbirds! Great product and price and here a in a day or two!
Beautiful!
This is the nicest hummingbird feeder I've ever had. The bottle is nice thick glass, so colorful - it looks like a flower itself. The base is metal and has flower openings and also little perches for the birds. I am very happy that it came with an "ant moat" as well. Thank you for a wonderful product for a good price.
Hawaii Beach 32 oz and Lollipop 32 oz.
Both are well made and absolutely beautiful. Easy to fill. Just put up this morning
and look amazing! Am sure the hummingbirds will be enjoying soon! Thank you for these wonderful feeders. Definitely worth the money.
Beautiful Hand-blown Glass Birdfeeder
Striking colors are eye-catching. Just found these but expect that since they are glass they will be easy to clean
Excellent
Great quality, attractive, sturdy. I ordered 3 more to give out as gifts after receiving mine. Hummingbirds love them!
Join our facebook group!
Stay up to date with the latest discounts
Share photos of hummingbirds
Participate in irregular activities and get a free gift
Join Group